Things we're passionate about
In 2016, we commemorated our 20th year in business by launching our Giving Back program.  Our whole team designed and participated in this program, and they became so passionate about Giving Back that it is now a permanent part of what we do.
Here are some of the features of our Giving Back program:
Blue Jays tickets for children who are undergoing cancer treatment

We've provided more than 175 children from across Ontario who are undergoing cancer treatment, and 175 family members, with field-level tickets to Blue Jays games.  We've also provided them with gift certificates, so the kids can come home with great souvenirs of their day at the ball park.  We do this through an organization called POGO, the Pediatric Oncology Group of Ontario.
POGO champions childhood cancer care through collaborations in healthcare innovation, survivor care, family assistance, population data, policy development, research and education.
We also provide ongoing financial support to POGO, which goes to families who are dealing with childhood cancer.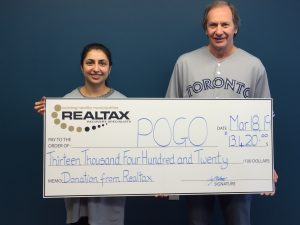 Women's Shelter
We provide support to a local shelter for women and children who are escaping abusive relationships.
Scholarships at Seneca College
In 2014, we established the annual Realtax Originality Scholarship at Seneca College.  It is awarded to a graduating student in the Public Administration Program who has demonstrated innovative, outside-the-box thinking and has shown creative solutions in their approach to the program curriculum.
We did this because we believe that it's vitally important to nurture, recognize and reward creative thinking and innovative solutions. We know that progress begins with great ideas.
In 2015, we established a second Realtax Originality Scholarship at Seneca College; this one is awarded to a graduating student in the Real Property Administration Program.
In 2017, we established a third Realtax Originality Scholarship. This one is awarded to a graduating student in the Law Clerk Program.
Inn from the Cold
Inn from the Cold provides homeless people with services that are designed to assist with finding housing, employment, mental health support and other necessities such as hot meals, warm clothing, laundry, internet and bathing facilities.
Adopt-a-Family
Each December we provide families in need with holiday meals and gifts.
In addition to these programs, members of the Realtax team are also involved in the following volunteer programs:
Visually Impaired People's Book Club
Jeff is a founding member of this unique book club.  It's unique because every member of the club, aside from Jeff, is visually impaired.
Founded in 2011, the VIP Book Club enables it's members to share in the enjoyment of great books, stimulating discussions, camaraderie, and our end-of-the-year and start-of-the-summer lunches.
The club meets once a month via Zoom.  If you would like more information about the VIP Book Club, or if you may be interested in starting a similar club in your community, please email Jeff at JeffOberman@Realtax.ca.